The Green Sanctuary Committee was formed three years ago, partially in response to one of the tenets of our mission statement, to Care for the Earth. A major goal of the committee from its inception has been to guide the congregation down the path to becoming a Unitarian Universalist Association (UUA) Green Sanctuary.
Green Sanctuary is a program of the UUA Congregational Stewardship Services. In order to qualify as a Green Sanctuary, our congregation completed and documented 15 projects across four focus areas: Worship and celebration, Religious Education, Environmental Justice, and Sustainable Living.
We submitted our application for accreditation last spring. On September 7, 2011, we were notified that we have been formally recognized as an Accredited Green Sanctuary. In the acceptance letter, the UUA Green Sanctuary Program staff said they were 'excited and inspired' by our participation in the Habitat for Humanity Step One Weatherization program and our co-sponsorship, with the Brunswick Area Earth Care Alliance of a Community Film Series that focused on Earth care. We were also applauded for raising the consciousness of the whole congregation through our Green Kitchen project. All three of these projects continue today. We're now brainstorming ideas for our role as the committee supporting UUCB's new certified Green Sanctuary status. We welcome you to join us and take part in our new (and continuing!) projects and directions.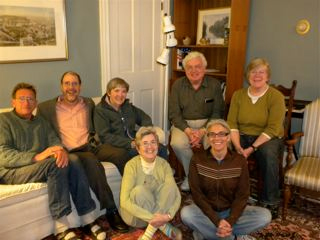 Membership is open to all members and friends of the congregation. We meet monthly, usually in the evening to accommodate members who work during the day. We look forward to welcoming you and hearing your ideas!
" We are committed to bringing forth an environmentally sustainable, spiritually fulfilling, and socially just human presence on this planet."
UUCB Congregational Green Sanctuary Commitment statement,May, 2011
Chair: Ted Berrett
Scroll down to see pictures of some of our activities.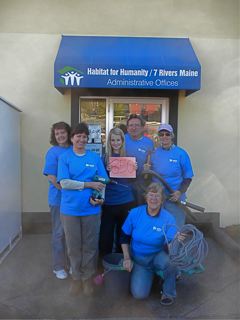 Two teams of Habitat StepOne Weatherizers from UUCB Green Sanctuary.
UUCB is one of three churches active in the Brunswick Area Earth Care Alliance. This picture shows a public screening of the documentry film King Corn, sponsored by the Alliance. Russell Libby, executive director of the Maine Organic Farmers and Growers Association (MOGFA) provided commentary.