Purpose
The Green Sanctuary Committee provides the congregation and larger community with information about environmental issues and how those issues influence our region and world.
The Green Sanctuary Committee Charge
The Green Sanctuary Committee fulfills its purpose through a variety of means to reach the community including but not limited to:
Annual Peace Fair each August.
Green Tips in the weekly order of service.
Conferring with UUCB buildings and grounds committee to promote a green agenda.
Promoting sustainable living, best practices.
Participation in the annual UUCB Holiday Fair.
Facilitating occasional environmental speakers for both congregational and larger community events.
Participation/coordination in local interfaith environmental groups.
An annual worship service on environmental issues, date determined with minister.
The committee also recommends "green" policies and practices within the UUCB, and oversees the on-going recycling program within the church.
Committee Ch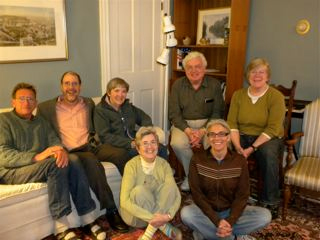 air/Convener
Determined by the committee
Meeting Schedule
Monthly
Primary Liaison Committees
Minister, Working for Justice Committee, Worship Committee, Building and Grounds Committee, other committees or teams as needed.
Scroll down to see pictures of some of our activities.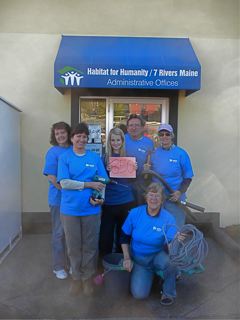 Two teams of Habitat StepOne Weatherizers from UUCB Green Sanctuary.
UUCB is one of three churches active in the Brunswick Area Earth Care Alliance. This picture shows a public screening of the documentry film King Corn, sponsored by the Alliance. Russell Libby, executive director of the Maine Organic Farmers and Growers Association (MOGFA) provided commentary.