The goal of the Fund Raising Events Committee is to support UUCB ministry and services by organizing events to support our financial stability, including concerts, an Appraisal Fair, Christmas Fair, Spring Auction, and other events. All money raised over our financial goal goes to outreach.
Visiting Auburn, Maine?  Check out our sister concert series, "Concerts for a Cause" at the First Universalist Church of Auburn.
Women in Harmony
Unitarian Universalist Church of Brunswick, 1 Middle Street, Brunswick, Maine
Saturday, April 8, 2017

 –

7:30 pm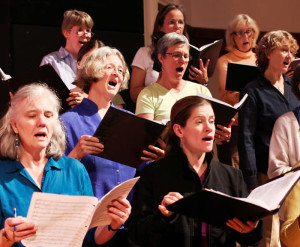 Founded in 1993, Women in Harmony is a chorus of women's  voices, singing for unity among women and advocating social, political and economic equality for all women, past, present and future.  Under the direction of Dr. Catherine "Kitty" Beller-McKenna, the chorus sings a wide variety of inspiring and entertaining songs with exceptional musicianship.
$12 in advance, $15 at the door
Jud Caswell
Maine's Jud Caswell is a little bit like a one-man folk festival. You've got your banjo picking, your Irish drinking songs, a rack of acoustic instruments, and a deep catalog of award-winning originals. He's often compared to James Taylor and David Wilcox, but his songs draw on a long musical history and wide-ranging influences from jazz and Piedmont blues to contemporary folk and rock.
Saturday, June 10, 2017 @ 7:30 pm
$12 in advance, $15 at the door