The goal of the Fund Raising Events Committee is to support UUCB ministry and services by organizing events to support our financial stability, including concerts, an Appraisal Fair, Christmas Fair, Spring Auction, and other events. All money raised over our financial goal goes to outreach.
Visiting Auburn, Maine?  Check out our sister concert series, "Concerts for a Cause" at the First Universalist Church of Auburn.
Jud Caswell
Unitarian Universalist Church of Brunswick, 1 Middle Street, Brunswick, Maine
Saturday, June 10, 2017

 –

7:30 pm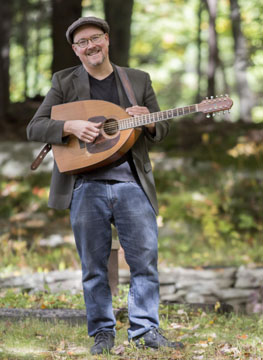 Maine's Jud Caswell is a little bit like a one-man folk festival. You've got your banjo picking, your Irish drinking songs, a rack of acoustic instruments, and a deep catalog of award-winning originals. He's often compared to James Taylor and David Wilcox, but his songs draw on a long musical history and wide-ranging influences from jazz and Piedmont blues to contemporary folk and rock.
Adults: $12 in advance, $15 at the door
Students and Children: $6
Brown Paper Tickets
Lipbone Redding
Singer/songwriter, guitarist, voice-instrumentalist, and storyteller, Lipbone Redding revs up a party with his original songs that effervesce with New Orleans swing, Memphis grooves and New York City style. A one-man orchestra with no electronic effects, his natural human sounds of throat singing, bass and beat-boxing, and his astonishingly realistic lip-tromboning are a must-experience event. He weaves his stories with funky rhythms, catchy melodies, brash humor, soulful singing, and inventive guitar playing. An engaging and entertaining show for all ages and musical tastes…there is truly 'something for everyone' at a Lipbone show! Here's a sample of his music.
Saturday, September 9, 2017 @ 7:30 pm
Adults: $15 in advance, $18 at the door.
Students and Children: $8

Under The Song Tree

The acoustic union of three established Maine songwriters (Dan Merrill, Anni Clark, Lynn Deeves) resulted in such a positive response that in 2000 the trio recorded a CD, under the song tree LIVE.  The CD clearly demonstrates their talents as seasoned musicians and songwriters, and their strength as a trio of performers who are passionate about music. In 2002, NH's Jam Music Magazine readers voted them "Folk Artist of the Year."  Their reunion concert features acoustic guitars, flute, harmonica, a variety of percussive instruments, and stellar three part harmonies.
Saturday, October 28, 2017 @ 7:30 pm
Adults: $12 in advance, $15 at the door
Students and Children: $6

Novel Jazz Septet

The musicians of "Novel Jazz" have been performing straight-ahead jazz around Maine and New England for over three decades.  They draw from the Great American Songbook and specialize in the works of Edward Kennedy ("Duke") Ellington and Billy Strayhorn, including some lesser-known compositions recently transcribed from original scores at the Smithsonian.
Saturday, January 13, 2018 @ 7:30 pm
Adults: $15 in advance, $18 at the door
Students and Children: $8
James Keelaghan
Hailed as one of Canada's best singer-songwriter , James Keelaghan is an artist who has proven to be a man for all seasons. His masterful story telling, over the course of nine recordings, has earned him many nominations and awards, and acclaim from  Australia to Scandinavia. Many of the lyrics in his songs display a concern about social justice, and some tell stories of a historical nature with underlying universals themes, while others mine the depths of the soul and human relations. Keelaghan's lilting baritone voice, driving rhythm guitar, and a sense of scene and narrative result in his ability to bridge traditional folk music with roots revival and Celtic music.
Saturday, February 17, 2018 @ 7:30 pm
Adults: $15 in advance, $18 at the door.
Students and Children: $8

Bill Staines

Back by popular demand. One of the best-known and beloved singer-songwriters from the American folk music scene, Bill Staines has spent five decades on the road singing his songs and entertaining audiences, starting with the Boston folk scene in the early 1960s. With his heartfelt songs, his warm, smooth baritone, his prowess on guitar, his charm and his gentle humor, he is one of the most popular singers on the folk music circuit today.
Saturday, April 7, 2018 @ 7:30 pm
Adults: $15 in advance, $18 at the door
Students and Children: $8
John Gorka

John Gorka, a contemporary American folk musician from New Jersey, honed his craft and unmistakable image in the Greenwich Village Fast Folk scene. Gorka is widely heralded for the sophisticated intelligence and provocative originality of his songs. Rolling Stone called him "the preeminent singer/songwriter of the New Folk movement" while the New York Times said, "Listening to John Gorka, one can get goosebumps all over. There are many reasons: fresh lyrics, a stunning emotional baritone, and his twisted humor." John has graced the stage of Austin City Limits, Mountain Stage, and eTown, and he has appeared on CNN. His song "Where No Monuments Stand" is featured in the documentary Every War Has Two Losers.
Saturday, June 2, 2018 @ 7:30 pm
Adults: $22 in advance, $25 at the door
Students and Children: $10
Barbershop Bash
Royal River Chorus &
Nor'easters Barbershop Chorus
The Royal River Chorus, Yarmouth's award-winning women's barbershop chorus will share the stage with their male counterparts, the Nor'easters from Bath.  Barbershop harmony is one of the few uniquely American-born musical styles. It is sung a cappella in four-parts and includes popular music from yesterday and today.  Ballads, uptunes, gospel, patriotic tunes, and novelty numbers are presented with superb showmanship that will entertain all ages.
Saturday, January 23, 2018 @ 7:30 pm
Adults: $12 in advance, $15 at the door
Students and Children: $6