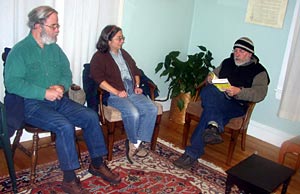 Now in our 9th year, we gather from 6:30 to 7:30 p.m. on the 2nd and 4th Tuesdays of the month, summers included. A volunteer reads a short story and the group discusses; no homework or preparation.
A participant said this at an evaluation session: "It is 'only' an hour, and I'm glad it is limited; but the hour is a rich and enlivening encounter with creative and original fiction, and with thoughtful and gracious people who bring meaning into my day."
Open to anyone who likes to read or talk (or both). For more information, contact a Program Coordinator.
Program Coordinators – Bill Clark and Larry Lemmel